GIGA Screen illuminated by PIXCOM : Longest LED Advertising Display in UAE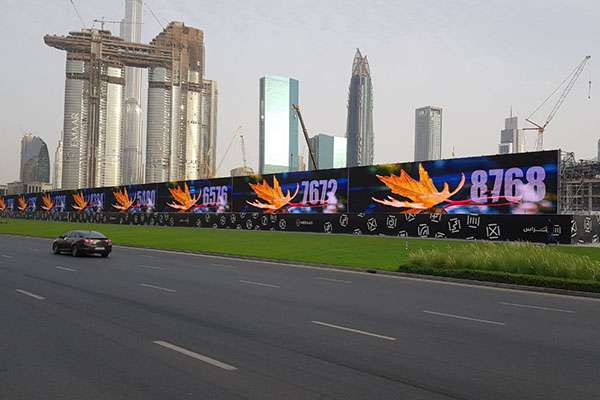 GIGA Screen illuminated by PIXCOM : Longest LED Advertising Display in UAE
A Massive New OOH advertising address near city walk
Outdoor Digital Displays is possibly the last place where consumers do not control the ad space. Its Effective. Its Adaptable. Its Successful.
And these are an integral part of Dubai's architecture and the city's excitement.
Today's tech-savvy busy consumers, are experts at advertising avoidance by choosing ad-free, paid media, or blocking ad insertions on free websites. OOH is much less threatened by this phenomenon than other traditional media and UAE corporates and retailers understand this well.
The GCC digital display specialists, Pixcom recently completed the installation of a GIGA OOH Advertising Display near City Walk. This enormous 175m X 5m long display will be the perfect venue for retailers to display their brand to reach a colossal audience in this flashing bustling advertising mecca.
"This gigantic display is a destination by itself for advertisers. When it comes to making an impact in Dubai size does matter.  It is sure to be one of the most sought after advertising space in the region because of its sheer size and location." commented Shihas K, CEO of Pixcom Technologies.
In the past few years , Dubai corporates have embraced technology and digital displays effectively to create a visually engaging experience. As content is developed and brands start to engage and deliver their brand experiences on this elaborate display, it is sure to stand out and attract every eyeball.
Pixcom believes in delivering displays and technology that are distinctive and this visually stunning screen is yet another significant addition to their growing portfolio of landmark projects.